---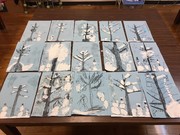 1st Grade Snowmen Families
---
Elementary Art Class Update
Happy Holidays everyone! I am here to update you on what's been happening in the art room lately.
Preschool is working to craft paper piece snowmen using cut up pieces of white paper and Kindergarten is working on woven snowflakes to help bring in some snow for the holidays! I hope we have a nice, safe white Christmas this year.
1st grade is creating a Winter Wonderland with kooky snowmen families that like to climb trees!! Too, the beautifully decorated wreathes made from 2nd grades' little hands will be on display once completed.
3rd grade is working on creating their own class theme park! Each student is building their own section of "Madden's Fun Park." Their work will feature all sorts of loopty loops and bumpy rides made from construction paper, as well when the park is created; the students will get to "ride" the ride of their choosing! It'll be a blast, but bring your barf bag!
4th grade is working together to establish new pizza restaurants in the area! They are making menus as well as mock up specialty pizzas; YUM!
5th grade has worked to craft TONS of paper and Popsicle stick ornaments for both my room and the Sullivan County Courthouse's Christmas tree. Sullivan County had a tree donated to them and they were asking for surrounding schools to feature handmade ornaments! Check it out!
Lastly, 6th grade is working finishing their Symmetrical Names and perfecting their art in recreating someone's portrait! They have learned how to create accurate spacing, sizing, and sketching of facial features! Looks like we may have some future portrait artists in the future!
I have enjoyed working with the students this year. They are so creative and have a great work ethic, I am so excited to see what the new year can bring. Merry Christmas!
Ms. Hannold