---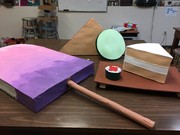 Arts and Crafts Giant Food (in progress)
---
High School Art update
Happy Holidays everyone! I am here to update you on what's been happening in the art room lately.
Art 1 just finished up learning about how to create 3D objects using paper mache! This was a choice project, so, they can make whatever they want! We had a unicorn and KC Royals hat, a book with all sorts of decorative quotes inside of it, a puppy, Spongebob's House featuring Spongebob and Patrick Star, Sephora Mascara, a blue crayon, a waffle fry, and a peace sign, all are featured on this article! Next up, firing and glazing their Ceramic Clocks!
Sculpture has been working on Magazine Choice pieces. Again, up to the student to decide their direction; we have had glasses, vases, crosses, Christmas ornaments, and a beautiful decorative wall picture. They are working to finish glazing their Spooky Pumpkins from Halloween this year. This kind of pumpkin will be able to last from year to year and they truly are something special, I can't wait to see them fresh out of the kiln!
Junior High has been working on honing their watercolor skills. They are working on 20" by 24" watercolor paper to create an image that has to do with a landscape, a still life, or something personal to them utilizing 4 of 9 watercolor techniques they've learned about. Too, they are waiting to have their pieces fired for a miniature garden set. They've made a tractor, Lego pieces, McDonalds, a gold fish, turtle, buck, garden gnome, mushroom, horse, 2nd amendment from the Bill of Rights, and more. Even though I have only had them for half a Semester, they truly have not lost their spark; they are a great group of kids.
Arts and Crafts have challenged themselves to create wonderfully LARGE food this semester. It looks good enough; one of my students confused it for real food! They have a little ways to go, but on the menu we have sushi, shrimp on a fork, watermelon slice, Chinese takeout, piece of cake, a LARGE pink Popsicle stick, and a sandwich. These items will be on display when they are completed.
Photography has been working inside to learn how to use the artistic computer program Gimp! Gimp is similar to Photoshop in that you can edit and color images just like professionals, but it is free for anyone to use. My students went on a misadventure, traveling to new unseen lands from their computer chair. They are also learning how to utilize the layering system to organize their colors when coloring in a color sheet of their own creation.
I have enjoyed working with my the students this year. They are so creative and have a great work ethic, I am so excited to see what the new year can bring. Merry Christmas!
Ms. Hannold